Third parties can bring a host of risks to corporations, and due diligence alone is not enough to prevent the most dangerous of those risks from striking your organization. This paper will explore the importance of effective internal controls to govern third parties and those risks they can pose to you. Specifically, it will address:
Recent examples of third-party risk failures (reputation, cybersecurity, and corruption), and how internal controls failed to prevent those lapses;
A modern definition of internal control that compliance officers can use to frame the processes they want to implement around third parties; and
Three specific compliance capabilities that will become more important as third parties proliferate in your extended enterprise.
For more information about Aravo's solutions for Third Party Risk Management, please contact us.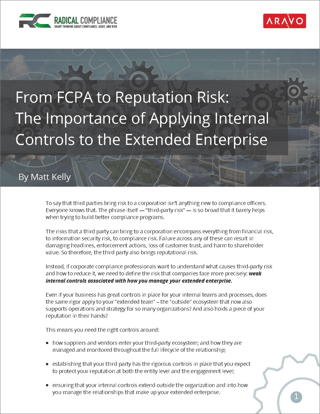 Related Content:
Webinar - From FCPA to Reputation Risk: The Importance of Internal Controls
Global Benchmarking Survey - Third Party Risk: A Journey Towards Maturity
Analyst Report - The Forrester Wave™: Supplier Risk And Performance Management Platforms, Q1 2018
White Paper - Evaluating Third Party Risk and Performance – Best practice approaches to risk and performance scoring and automated workflow
White Paper - Cybersecurity Regulatory Radar: Five Top Trends in Cybersecurity Regulation
Executive Exchange Series - The Business Case For Better Third Party Risk Management
Request A Demo of Aravo Third Party Risk Management Solutions