From Predictive Insight to Action
Enterprises continue to struggle with the increasingly difficult mandate to consistently improve, maintain, and document cybersecurity in order to protect and enhance brand reputation, customer trust, and the bottom line. Top of mind on the cybersecurity agenda is adopting a more agile approach to managing emerging risks across an organization's third-party portfolio.
The staggering cost of data breaches continues to escalate and is predicted to exceed $2 trillion by next year, according to Juniper Research. The average cost of a single breach is more than $4
million, estimates the Ponemon Institute. Industry analysts suggest that nearly two-thirds of data breaches can be attributed to third-party vendors.
Learn how Aravo, industry leader of third-party risk management solutions, and SecurityScorecard, the industry leader in security ratings, have partnered to integrate their solutions to provide today's global extended enterprises with a unique approach to assessing their third-party ecosystem for cybersecurity vulnerability, and ensuring the appropriate remediation plans are in place.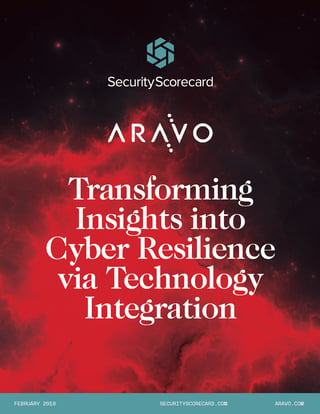 Related Content:
White Paper - Buyers Guide to Third Party Risk Management
White Paper - Third Party Risk Management in the Dynamic of Business Scale, Complexity, and Change
Executive Overview - The New GDPR: Taking A Strategic Approach To An Internationally-Focused Data Protection Rule
Infographic - EU GDPR & Third Party Risk - 5 Steps You Can Take Today
OCC Update Briefing 2017-7 - The OCC's Supplemental Examinations Procedures for Third Party Relationships Raising the Bar for Banks' Third Party Risk Management
Analyst Podcast - Session 1 - How to Develop a Third Party Management Strategy
Expert Series Podcast - GDPR & Why Organizations Need To Be Thinking About Third Party Risk
Request A Demo of Aravo Third Party Risk Management Solutions