How to Design a Third Party Management IT Architecture
Session 3 of 3
Third party management requires a robust, adaptable IT architecture that models the complexity of third party information, transactions, interactions, and relationships and supports the timely data collection and analysis of third-party information with best-in-class technology. Implemented properly, a third party management architecture provides stake-holders with a single version of the truth regarding third party performance and risk, and enables those stake-holders to respond quickly and precisely when new third party risks arise. Part 3 of the webinar series will describe:
Components and requirements for a third party information architecture

Types of third party management information and how this information integrates into third party processes

Available third party management technologies and what best serves the organization

Technical and organizational requirements for third party management platforms

Building a business case for third party management platforms
Please enjoy podcast sessions 1 & 2, links below.
For more information about Aravo solutions for Third Party Risk Management, please contact us.
For a comprehensive examination into the business motivations that drive a successful business case for TPRM, read our complete White Paper The Business Case For Better Third Party Risk Management - Better business outcomes through good governance.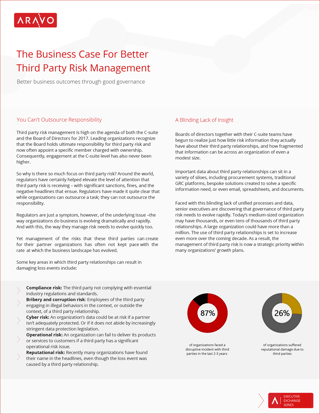 Related Content:
Analyst Podcast - Session 1 - How to Develop a Third Party Management Strategy
Analyst Podcast - Session 2 - How to Define a Third Party Management Process Life Cycle
Executive Download - Third Party Risk Management in the Dynamic of Business Scale, Complexity, and Change
Executive Download - Buyers Guide to Third Party Risk Management
Executive Overview - The New GDPR: Taking A Strategic Approach To An Internationally-Focused Data Protection Rule
OCC Update Briefing 2017-7 - The OCC's Supplemental Examinations Procedures for Third Party Relationships Raising the Bar for Banks' Third Party Risk Management
Infographic - EU GDPR & Third Party Risk - 5 Steps You Can Take Today
Blog - Third Party Risk: Why Global 2000 Companies Should Be Focused on Third Party Compliance
Request A Demo of Aravo Third Party Risk Management Solutions