Session 2 -

How to Define a Third Party Management Process Lifecycle
Session 2 of 3
Join GRC experts Michael Rasmussen, Principal Analyst at GRC 20/20, and Dave Rusher, SVP Product Strategy & Alliances at Aravo, as they present an Executive Insights Series on managing Third Party Risk and Compliance.
Organizations cannot afford to address third party management with ad hoc tools and processes. Rather, third party management requires a systemic, enterprise-wide, federated compliance approach with well-defined business processes for monitoring and managing ever-changing relationships, risks, and regulatory environments. Part 2 of this webinar series examines each stage of the third party management lifecycle:
Ongoing context monitoring

Third party identification & onboarding

Third party communications & attestations

Third party monitoring & assessment

Forms & approvals

Metrics & reporting

Third party re-evaluation
Please enjoy podcast sessions 1 & 3, links below.
For more information about Aravo solutions for Third Party Risk Management, please contact us.
For a comprehensive examination into the business motivations that drive a successful business case for TPRM, read our complete White Paper The Business Case For Better Third Party Risk Management - Better business outcomes through good governance.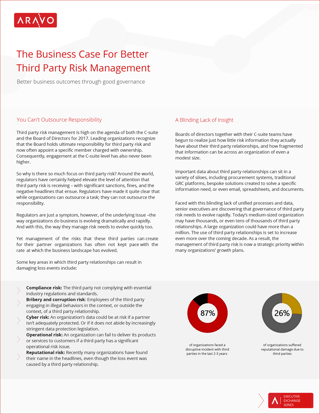 Related Content:
Analyst Podcast - Session 1 - How to Develop a Third Party Management Strategy
Analyst Podcast - Session 3 - How to Develop a Third Party Management IT Architecture
Executive Download - Third Party Risk Management in the Dynamic of Business Scale, Complexity, and Change
Executive Download - Buyers Guide to Third Party Risk Management
OCC Update Briefing 2017-7 - The OCC's Supplemental Examinations Procedures for Third Party Relationships Raising the Bar for Banks' Third Party Risk Management
Infographic - EU GDPR & Third Party Risk - 5 Steps You Can Take Today
Blog - Third Party Risk: Why Global 2000 Companies Should Be Focused on Third Party Compliance
Request A Demo of Aravo Third Party Risk Management Solutions