Session 1 - How to Develop a Third Party Management Strategy
Session 1 of 3
Join GRC experts Michael Rasmussen, Principal Analyst at GRC 20/20, and Dave Rusher, SVP Product Strategy & Alliances at Aravo, as they present an Executive Insights Series on managing Third Party Risk and Compliance.

Managing third party activities in disconnected silos inevitably leads to failure. Without a coordinated third party management strategy, executives and compliance teams lose the visibility they need into third party relationships, changing regulations, and organizational risk. Part 1 of the webinar series examines:
Current drivers & trends pressuring organizations in third party management

Different ways organizations approach third party management

How to develop a third party management strategic plan

The importance of establishing a third party management governance team

Developing a third party management charter and policy
Please enjoy podcast sessions 2 & 3, links below.
For more information about Aravo solutions for Third Party Risk Management, please contact us.
For a comprehensive examination into the business motivations that drive a successful business case for TPRM, read our complete White Paper The Business Case For Better Third Party Risk Management - Better business outcomes through good governance.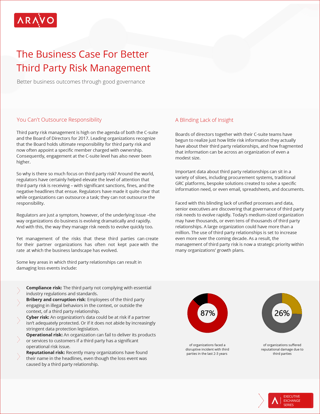 Related Content:
Analyst Podcast - Session 2 - How to Define a Third Party Management Process Lifecycle
Analyst Podcast - Session 3 - How to Define a Third Party Management IT Architecture
Executive Download - Third Party Risk Management in the Dynamic of Business Scale, Complexity, and Change
Executive Download - Buyers Guide to Third Party Risk Management
Executive Overview - The New GDPR: Taking A Strategic Approach To An Internationally-Focused Data Protection Rule
OCC Update Briefing 2017-7 - The OCC's Supplemental Examinations Procedures for Third Party Relationships Raising the Bar for Banks' Third Party Risk Management
Infographic - EU GDPR & Third Party Risk - 5 Steps You Can Take Today
Blog - Third Party Risk: Why Global 2000 Companies Should Be Focused on Third Party Compliance
Request A Demo of Aravo Third Party Risk Management Solutions