This technical white paper provides insight into how effective scoring methodologies connected to automated workflows can help companies better manage third party risk, performance and compliance at scale. It draws from Aravo's experience of working with organizations that have the most complex third party networks in the world, and describes the best-in-class approaches companies are now taking.
The paper also provides a deep dive into the Aravo Evaluate Engine – a unique and configurable scoring engine – and demonstrates how the engine provides a solution that companies with mature third party risk management programs are benefiting from.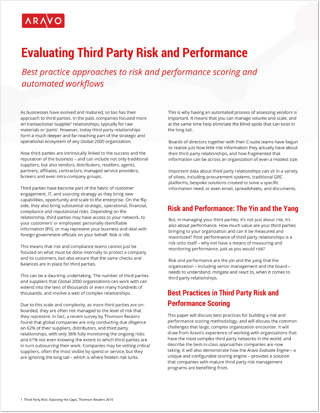 For more information about the Aravo solutions for Third Party Risk Management, please contact us.
Related Content:
White Paper - The Business Case For Better Third Party Risk Management
White Paper - Buyers Guide to Third Party Risk Management
Blog - Evaluating Third Party Risk and Performance
Blog - Third Party Risk Management in the Dynamic of Business Scale, Complexity, and Change
Blog - Sustainable Procurement - Survey Shows Progress Still To Be Made
Executive Overview - The New GDPR: Taking A Strategic Approach To An Internationally-Focused Data Protection Rule
Infographic - EU GDPR & Third Party Risk - 5 Steps You Can Take Today
OCC Update Briefing 2017-7 - The OCC's Supplemental Examinations Procedures for Third Party Relationships Raising the Bar for Banks' Third Party Risk Management
Analyst Podcast - Session 1 - How to Develop a Third Party Management Strategy
Request A Demo of Aravo Third Party Risk Management Solutions