Far reaching new data protection laws are coming. Are you ready?
5 Steps To Take Today
Too often companies' greatest risk exposure lies with third parties, so it is important to be considering and implementing your third party compliance programs now to protect one of your most valuable assets - your clients' private and personal information.
For more information about how Aravo can help improve your GDPR compliance programs, please contact us.
Click here or on the image to view and download.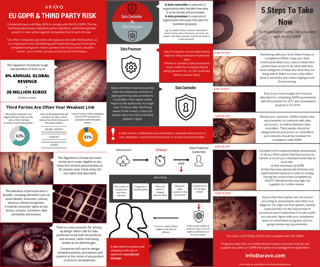 Related Content:
Executive Overview - The New GDPR: Taking A Strategic Approach To An Internationally-Focused Data Protection Rule
Expert Series Podcast - Session 1 - GDPR & Why Organizations Need To Be Thinking About Third Party Risk
Expert Series Podcast - Session 2 - A Deeper Dive into GDPR & Why Organizations Need To Be Thinking About Third Party Risk
Expert Series Podcast - Session 3 - Looking toward the future with GDPR & Third Party Risk - with consideration to privacy regulations in other countries
Blog Post - The EU GDPR & Third Party Risk: Why Global 2000 Companies Should Be Focused on Third Party Compliance
Award Report - Aravo for GDPR wins award for third party GDPR compliance application
Executive Overview - The New GDPR: Taking A Strategic Approach To An Internationally-Focused Data Protection Rule
White Paper - Cybersecurity and Vendor Risk. The Third-Party Risk Challenge is Here Now
White Paper - Cybersecurity Regulatory Radar: Five Top Trends in Cybersecurity Regulation
Executive Exchange Series - The Business Case For Better Third Party Risk Management