Aravo's eBook Meeting the Expectations of the Board: Accelerating vendor and third party program maturity to enhance governance and oversight is a useful tool for boards AND for third party risk professionals seeking to educate their boards about why TPRM is so important for the organization, and why investment is important.
It provides a very useful benchmarking maturity model, and covers:
Why are boards prioritizing third party risk management?
Why is third party risk such a unique challenge for boards and their organizations?
What does a good governance framework look like?
What are Third Party Governance best practices?

Comprehensive governance structure
Clearly defined roles and responsibilities
Regular third party review meetings
Cohesion across three lines of defense
Third party risk appetite and thresholds well defined and understood
Segmentation reviewed annually
Issue escalation rarely needed
Issues resolved quickly/effectively
Integrated enterprise TPRM IT solutions in place
Third party relationship review maximized
Industry best practices embraced
Utilities and standardization
Enterprise view of risk, performance and compliance

What can the board do to help embed third party risk governance?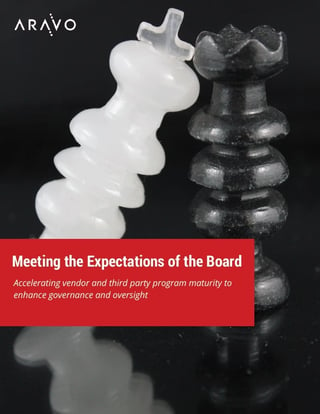 For more information about the Aravo solution for Third Party Risk Management, please contact us.
Related Content:
White Paper - The Business Case For Better Third Party Risk Management - Better business outcomes through good governance
White Paper - Buyers Guide to Third Party Risk Management
White Paper - Third Party Risk Management in the Dynamic of Business Scale, Complexity, and Change
Webinar - Vendor & Third Party Risk - Expectations of the board and how to develop your third party program maturity to support oversight
Executive Overview - The New GDPR: Taking A Strategic Approach To An Internationally-Focused Data Protection Rule
OCC Update Briefing 2017-7 - The OCC's Supplemental Examinations Procedures for Third Party Relationships Raising the Bar for Banks' Third Party Risk Management
Analyst Podcast - Session 1 - How to Develop a Third Party Management Strategy
Request A Demo of Aravo Third Party Risk Management Solutions