This white paper looks at the strategic underpinnings of a best practice approach to third party risk management (TPRM), including:
The TPRM life-cycle
TPRM-related compliance programs
Core TPRM functionality
Important "30,000 feet high" questions
It then provides a deep-dive into the seven key areas for consideration when assessing third party risk management solutions:
Configuration
Integration
Usability
Third party engagement
Management
Analysis
Technical questions
The paper is an invaluable resource for organizations assessing their TPRM program and technology requirements. With more than 120 questions and points of evaluation – it will help organizations keep a strong focus on both their strategy for third party risk management, as well as their tactical requirements when exploring the purchase of a new solution.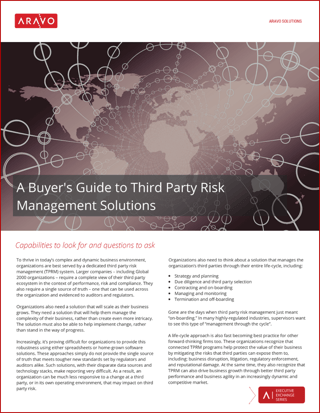 For more information about the Aravo solution for Third Party Risk Management, please contact us.
Related Content:
Blog Post - What do I need to ask when buying a Third Party Risk Management (TPRM) solution?
Executive Overview - The New GDPR: Taking A Strategic Approach To An Internationally-Focused Data Protection Rule
OCC Update Briefing 2017-7 - The OCC's Supplemental Examinations Procedures for Third Party Relationships Raising the Bar for Banks' Third Party Risk Management
Infographic - EU GDPR & Third Party Risk - 5 Steps You Can Take Today
Blog - Third Party Risk: Why Global 2000 Companies Should Be Focused on Third Party Compliance
Blog Post - OCC BULLETIN 2017-7: The OCC's Supplemental Examinations Procedures for Third Party Relationships
Analyst Podcast - Session 1 - How to Develop a Third Party Management Strategy
Request A Demo of Aravo Third Party Risk Management Solutions