From May 2018, all companies that handle the personal data of EU citizens are subject to the EU General Data Protection Regulation (GDPR). Under this regulation, not only do you need to be compliant – you need to ensure that any third parties that you share data with are also compliant.
Aravo for GDPR, a cloud-application designed to help organizations stand up robust third party GDPR compliance programs quickly and in accordance with regulatory expectation, was awarded the 2017 GRC Innovation Award for technology innovation in third party management by independent analyst firm GRC 20/20.
GRC 20/20 found: "The key value to organizations using Aravo for GDPR is their integrated and structured solution content and process for GDPR compliance in third party relationships. This is in a solution that can be implemented rapidly without a long project, consultation, and extended deployment time-frames. By providing pre-defined GDPR best practice questionnaires, templates and workflows designed to support third party compliance, Aravo has taken the hard work out of program design, and packaged it up in a way that supports rapid adoption – critical in a time-sensitive regulation such as GDPR."
Read the full report for a detailed analysis of the GDPR landscape and why the Aravo for GDPR solution is the right fit for companies wanting to stand up their third party GDPR compliance programs quickly, cost effectively and with confidence.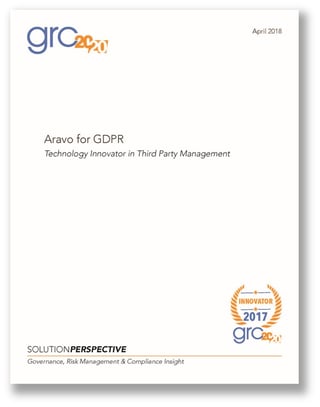 For more information about Aravo for GDPR, please contact us.
Related Content:
Executive Overview - The New GDPR: Taking A Strategic Approach To An Internationally-Focused Data Protection Rule
Webinar - Aravo & Deloitte: GDPR Advisory Discussion and Product Solution
White Paper - Cybersecurity & Vendor Risk: The Third Party Risk Challenge Is Here Now
Webinar - GDPR & Third Parties – Ask the Expert
Infographic - EU GDPR & Third Party Risk - 5 Steps You Can Take Today
White Paper - The Business Case For Better Third Party Risk Management
White Paper - Buyers Guide to Third Party Risk Management
Receive A Demo - Aravo for GDPR application