Far reaching new data protection laws are coming. Are you ready?
5 Steps To Take Today
Too often companies' greatest risk exposure lies with third parties, so it is important to be considering and implementing your third party compliance programs now to protect one of your most valuable assets - your clients' private and personal information.
To learn about the Aravo solution for GDPR Third Party Risk Management, please contact us.
Click here or on the image to view and download.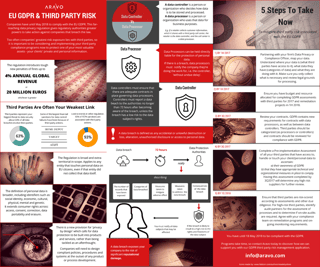 Related Content:
Executive Overview - The New GDPR: Taking A Strategic Approach To An Internationally-Focused Data Protection Rule
Expert Series Podcast - Session 1 - GDPR & Why Organizations Need To Be Thinking About Third Party Risk
Expert Series Podcast - Session 2 - A Deeper Dive into GDPR & Why Organizations Need To Be Thinking About Third Party Risk
Expert Series Podcast - Session 3 - Looking toward the future with GDPR & Third Party Risk - with consideration to privacy regulations in other countries
Blog Post - The EU GDPR & Third Party Risk: Why Global 2000 Companies Should Be Focused on Third Party Compliance
Executive Download - Third Party Risk Management in the Dynamic of Business Scale, Complexity, and Change
Executive Download - Buyers Guide to Third Party Risk Management
OCC Update Briefing 2017-7 - The OCC's Supplemental Examinations Procedures for Third Party Relationships - Raising the Bar for Banks' Third Party Risk Management
Blog - Third Party Risk Management in the Dynamic of Business Scale, Complexity, and Change
Blog - OCC BULLETIN 2017-7: The OCC's Supplemental Examinations Procedures for Third Party Relationships
Analyst Podcast - Session 1 - How to Develop a Third Party Management Strategy
Request A Demo of Aravo Third Party Risk Management Solutions